Back
5 ways to do the Mongol Rally when all your mates are pussies
Hello billy-shit-mates.
Does this sound familiar? "I've been planning to do the Mongol Rally for ages, I told my mates and they all have a face on them like I've just been fingering a dog's bumhole."
Well…
1. Fuck them.
2. Do it anyway.
There you go, two easy steps to solve your dilemma. But we can even be more helpful than that. So read on and we will give 5 reasons why it makes no difference if your buddies are armchair huggers.
So here we go…
1. Go on your own
The simplest solution. Who needs mates anyway. Loads of people do the Mongol Rally on their own. Plenty of people hate their co-driver by the time they reach France so why not make who you convoy with optional instead of being stuck in a car with someone you think is a dick.
Convoys are baked into the fabric of the rally, like not realising you stink because all your team mates stink too. It would take more effort to go it alone than join one or more convoys along the way. They break up, merge and new ones form even in the final stages in Mongolia, so you don't have to be precious about it. Just set off and it will happen. Unless you don't want it to.
2. Get new mates or join an existing team
You don't even need to approach strangers in the street, we made a Facebook group just for finding Adventurists team mates. And it's worked. A lot.
In case you don't know what facebook is we went to the trouble of copying a recent post here… There you go. No excuse now.
"I have been doing stand up comedy for this winter so I have quite a few jokes about my sex life. Hahaha … I'm a thirty something woman from Finland. I have been traveling quite a bit and this is my next big thing."
Hilkka Helmi Maria Kokkonen
Joseph, Aniq and Israel formed Team Polish My Sausage did the 2017 Mongol Rally and confirmed "we didn't even kill each other (much)" followed by one of those weird heart emoji things, which we think means it was good.
Every year there's also existing teams who need another person. Pro tip: time it right and they'll have already sorted the car and a bunch of the admin shit so you can jump on board just when it gets good.
Right now there are at least three posts in that group from people you could go and do the Mongol Rally with.
"Looking for a 3rd to join our rally team – name still unknown so bonus points is you can come up with one! We are two friends, in our 20s/30s, that met backpacking in Southern Africa – so thought we'd get together for Round 2. Likely taking the Southern Route … London and Boston based so can meet up if you're from either!"
Kristen Albright

3. The Relay: bundle up your mates into one uber-mate
So your mates are only slightly useless. Maybe they have things like a job or some other irrelevant frippery. One often used solution is that you drive the whole way and your mates fly in at various points and do a leg of the rally with you.
Anyone who says they don't have enough time, or can't get out of work for long enough is shit out of excuses now. The ones that suffer with spouse interference? They can bring the annoying spouse with them. Make it a short leg.
If someone says they're too skint get them on a section where you can sleep in the car and eat pot noodles, which is the entire Mongol Rally. Done.
If someone admits they're just a bit of a pansy and they're scared about pooing outside just cut them out of your life immediately. They're like the lumpy puss oozing out of an infected wound. Get it gone or it will spread like a dirty plague of fear and self limitation.
4. Hitchhike
This is the ultimate cheapskate's solution. In 2010 Rachel Black assessed her skill set and decided that giving massages would be the perfect form of payment for hitchhiking the whole Mongol Rally. Handy for her because one skill she was lacking was the ability to drive.
"Rather than thinking about what I couldn't do I focused on what I could do. I am a massage therapist by trade and was thinking that the Rally participants spending many hours a day driving must suffer from back and shoulder tension. Perhaps I could be of use."
Her Mongol Rally Massage campaign was born – read her story in this post.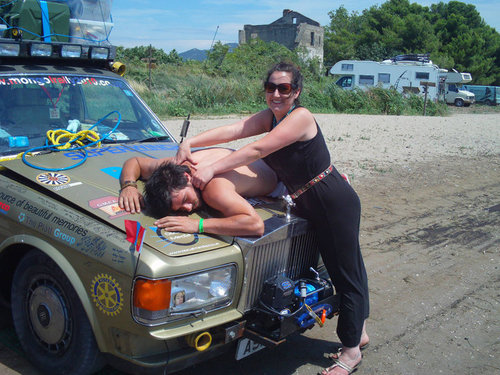 Back in 2007 we made a TV show. Mr. Buddy was the presenter but we didn't want to make it too easy so he wasn't allowed to have a car. He wasn't offering massages though. In this video about his trip he says: "I'll go where anyone will take me, I'm desperate at this point." Desperation succeeded and he nailed it.
Looking back on it 12 years later Buddy said:
"Before hitch hiking on the Mongol Rally my thumbs had no purpose in life. Now though, I consider them my most valuable asset and I wouldn't swap them for anything in the world. Think about that the next time you're texting someone – your thumbs are underachieving. Stop texting, start hitching, your thumbs will never be depressed again."
5. The Last Resort
Ask Mummy. One last billy bonus from the far left of left field that has actually worked on the rally: form a family team. Granted most people would rather poke their own eyeballs with a shitty stick than do the Mongol Rally with their parents but it has been done.
Savanna Baird explains: "Out of the blue my Mum asked if l fancied driving to Mongolia. I immediately said yes without a thought and then asked 'where is Mongolia'? To be honest not knowing too much was great as l didn't get too daunted."
Her Mum Davina told us afterwards that they met a guy called 'Mark' on the Mongolian border who turned out to be an excellent mechanic, fixer and convoy buddy. He definitely impressed Mum because he ended up marrying her daughter Savanna. Bravo sir.
In conclusion ladies; if you despair about your young unmarried daughter, chaperone her on the Mongol Rally and pick your own son-in-law. She gets a husband, you get adventure. Everyone's a winner.
Sign up for the 2019 rally closes on 5th June – get on it.
Skip the website and go straight to the Full Details on the rally here.