Back
Visas are Sexy
We wish there was a way around the life-bleaching process of applying for visas. Sadly, there isn't.
During the very first Mongol Rally in 2002, Mr Tom and Mr Joolz made it as far as the Iranian border before they got turned away for their lack of paperwork and their lingering smell. Since then, we've come to accept that visas are a painful but unavoidable part of modern travel. Like being surrounded by music that you last heard at your school disco and getting force fed passages from Shantaram from a guy so stoned he hasn't noticed he's not wearing trousers. 
Luckily for us, The Visa Machine take care of our visas and have assisted many a Mongol Rallier with theirs. Set up after that first aborted Rally, they were once our office chums and have since flown the nest to set up independently. They've got more than a decade of experience surfing the thorny world of embassy paperwork and they've seen many a cock-up in their day. Too often unsolvable but avoidable. 
With the Mongol Ralliers in mind, we asked Julia, Global Operations Director what are the worst mistakes she's come across in her time on the bureaucratic front lines.
If you're a Mongol Rallier, you've got your very own Mongol Rally TVM homepage. We're also going to remind you that you'll get 15% off every visa admin processing fees if you use the discount code in your emails (MR2020). 
Have you got a drink? Then we'll begin. 
Mistake 1 – Not Applying For The Visa
Yup. Not getting the Visa you need is probably the worst mistake to make, yet every year an impetuous team decides to chance it. 
Let's talk Turkey and Turkmenistan. If you are from the EU you can travel visa-free for 30 days in Turkey. Unless you are from the UK or Ireland, then you'll need to get yourself an e-visa. Similarly, Australian, New Zealand or US passport holders need that paper but if you hail from Brazil, Iceland, Mongolia or the Seychelles you don't. Simple so far.
Some countries, like Turkey, will be set up to issue your tourist visa on the border, usually for slightly more money. Arrive unprepared, the Turks will probably still have you.
However, shimmy up to a Turkmen immigration officer without the right piece of paper to stamp, they won't let you in. That's going to leave you with your back to the Caspian Sea or Iran. Either way, a damn expensive situation to get out of.
Here's Julia to explain this process: 
Get turned down from a border and one of two things will happen next:
– They will turn you around and ask you to go back to the country you just left. That could potentially work, but only if you don't need a visa for that previous country or if your visa was valid for 2 or more entries.
– If the above fails, you'll be stuck in the 'no man's land'. The immigration officers won't take pity on you and won't let you in just because they are nice. You will stay there until you or the embassy of your country resolves the issue (they will have to get involved, yes) and you'll be then flown home, potentially being deported.
You know what makes it really tricky to get visas? Having a deportation in your travel history. In 2015, Rallier Phil couldn't get into Russia because of a 'deportation' from Kazakhstan in 2014. They didn't give a fuck that he was flown out by his insurance company with a dodgy kidney.
The USA, UK, Australia and Canada are particularly skittish about issuing visas to tourists with any hint of chequered record, so a cock-up that ends in deportation could come back to haunt you. 
Mistake 2 – Not Getting The Same Visas as your Teammates
Does this seem a little obvious? That's because it is.  Alas, more than one rally team has come a-cropper after someone's missed a country out of their visa collection. 
The solution? If you rock up to a country that doesn't issue visas on the border, the fool who's missing one will have to find a way over or around that country. Usually, they fly, it's disgustingly expensive and they have to wait around at the other end for their pals in the car to catch up. A bit shit really. 
Once a visa is issued, the dates can't be amended or extended. There's no returns policy either. If you want to change it, you have to apply for a new visa – which means paying again and waiting again. 
Don't rely on getting a visa extension in-country either. The Idiots Abroad in 2014 were about to overstay their visa in Uzbekistan and reckoned on getting an extension. Request denied, they raced to a border crossing in the guidebook. When they got there, knackered and out of diesel, they discovered the book was out of date, the crossing was closed and they were definitely going to miss their exit date. 
After a standoff between two police chiefs, a night in Uzbek jail, paying a $500 fine each, they earned the contempt of the British Embassy and a deportation stamp in their passport: 
"The Embassy did what they could, which wasn't much. They offered us a phone to ring home and update family on our problems but that was it. They told us they couldn't support us in any way or do anything but did tell us to go to the Uzbek district police office, register ourselves with them and be at their mercy. We were all pretty nervous as no one could tell us what was going to happen to us; all they did was tell us that we were in real trouble. Great!"

The Idiots Abroad – 2014
We checked this situation out with the Foreign Commonwealth Office and for any (British) teams aspiring to be the next Idiots Abroad, this is exactly the level of support to expect. For this kind of situation, they will spend no public funds to help you out of your jam nor will they mediate on your behalf.
Travel on an invalid visa or passport, the British Embassy will facilitate a line of communication with your family but it'll be up to you to deal with the relevant authorities in country:  "Because each country can decide who they allow into their country and (outside the EU) no country has any obligation to explain their decisions to the British Government." They also cannot "investigate crimes, get you out of prison… because we cannot interfere in another country's processes."
The Idiot's Abroad were able to continue their rally, somewhat poorer than before and each sporting a head of hair that would make them stand out at a UV party. We imagine they've been dining out on their tales of back-alley diesel negotiations and Uzbek prison cells ever since. 
Mistake 3 – Not Getting Exactly the Same Visas as your Teammates
No, this is not the same thing – now we're talking about dates.
Everyone on your team needs to have the same dates and the dates for neighbouring countries need to overlap. If one visa expires before the next country starts you'll end up either overstaying or stuck between the two countries. 
"The only way of changing anything is to apply for a new visa, which is costly and time-consuming, so get it right from the start. That means that the dates on the visas must overlap, must match those on your team-mates' visas and must cover the maximum allowed validity."

 – Julia
In 2008 team Desert Taxi ballsed this up royally. One of their three had a different date of entry for Russia. Already stamped out of Kazakhstan but not allowed into Russia, they made the brave call to suffer the consequences as a team. Founding the Autocratic Republic of Taxistan, they spent six days in no man's land, playing cricket, God Save the Queen and cheering other rally teams through. There was no power, no shop and no toilet and they survived on charity and their wits. They only got through when the final visa date became valid. Which was probably quite a relief, especially for the teammate who had contracted dysentery. 
"Ties are souring with the Russians, who are less and less willing to provide us with water. Not surprising considering the spontaneous bouts of nudity and almost continuous ABBA we are subjecting them to."

– Team Desert Taxi
If you use the Visa Machine, you can apply for your teams' Visas in one package.
The best way to do this is to create an account, select your visas and you can add your teammates using the 'Add People' tab on the left-hand side.  
Apply together, mistakes like different dates for the same team or missing countries can be spotted by the masters of bureaucracy. You are also more likely to get your visa's back at the same time. 
Mistake 4 – Leaving it Too Late
Visas are time-consuming. If you are planning to drive through central Asia or Iran, you are looking at weeks, potentially months to get your visas sorted.
"If you leave it too late you'll end up changing your route to the simplest one which isn't necessarily something you'd like to do."

– Julia
The visa process can be painfully opaque. Once the application is underway sometimes everything goes smoothly, sometimes it can take days and weeks longer than the estimated. They've got your passport and there is nothing you can do to speed up the process unless you are up for splashing the cash on express delivery when you apply. To get all your visa's you'll also need to be able to send your passport away multiple times, so you might have to consider any other travel plans in your visa schedule. 
Every year there's a smattering of teams who come to the launch and then stick around waiting for a passport delivery before they can rejoin the mass convoy east. Bit of a bloody shame really.  
Mistake 5 – Not Doing Your Research
Double-check any advice from veteran Ralliers and guidebooks because visa rules change. Often.
The daddy of all the other mistakes. You can find out, for free, what the visa requirements are for your nationality on the Visa Machine homepage.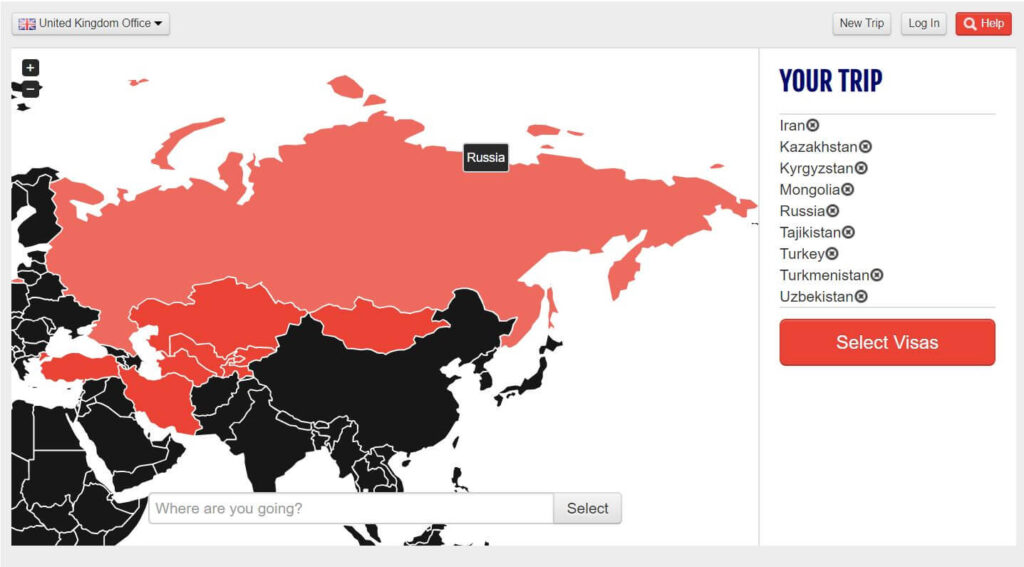 Use the map to select the countries you are going to, tell the computer your nationality and it will give you a list of visa's to consider along with how much they'll cost.
You can also use that their 'suggested routes,' based on the routes Ralliers have gone in the past.  It will save you rather a lot of time: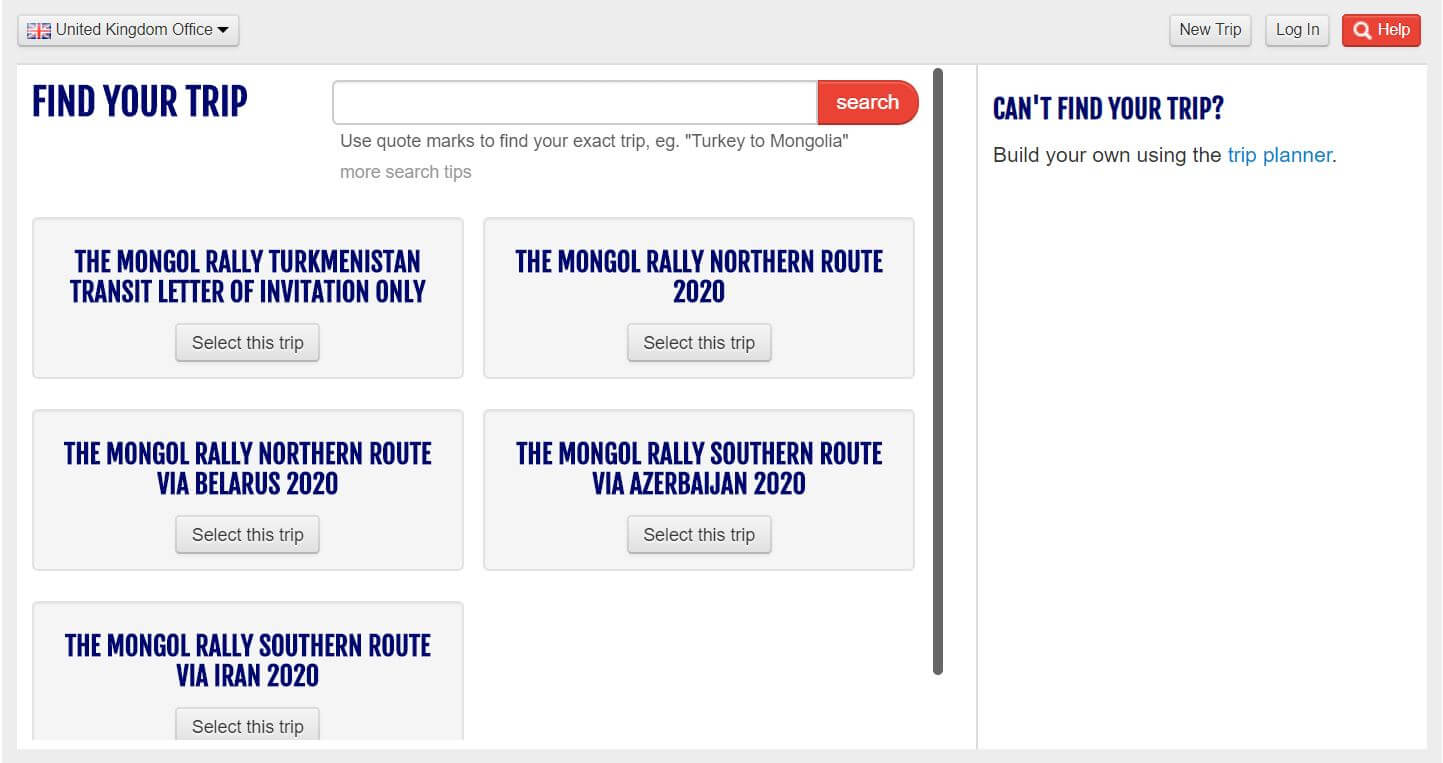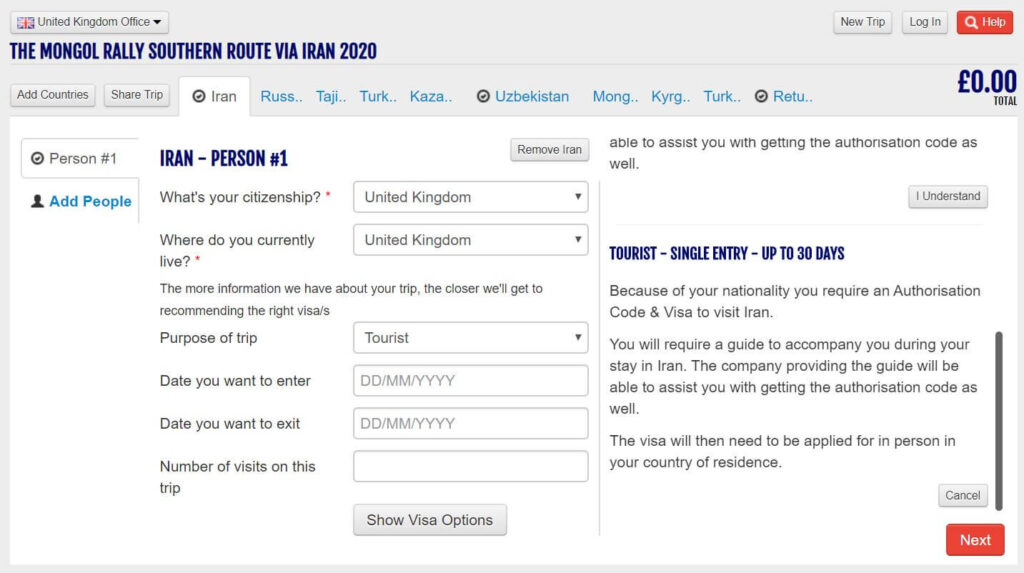 If you've got this far, you can probably handle these last scraps of advice:
Mongolia has changed its visa requirements more times than you change your pants (hopefully). If you are an Australian, UK or EU national (except you Germans) you will probably need a visa to visit. US nationals can travel visa-free for up to ninety days but Canadians can only stay for thirty. Hold onto that one. You might need it in a pub quiz one day. 
If a visa form is asking for an address, find one. Don't leave the section blank and hope the embassy won't notice. 
Russia doesn't really offer an easy multiple entry Tourist visa. Unless you are American. Riddle me that, Putin. For everyone else, if you are planning on first crossing the border from Ukraine, Georgia, Azerbaijan, Latvia, Estonia or Finland, you can only visit Kazakstan or Mongolia. Not both. A risky way round this is taking a gamble on a transit Visa and waiting for a minimum of three days for it to become active. You can also look into a cultural visa, but it can take longer and be more expensive. Another way round this is to cough up a small fortune to drive through China. Team PZM did it in 2013 and it looks pretty spectacular but alas, this isn't a cheap route and as of this moment, because of Coronavirus, the border is closed.
Cheerful stuff isn't it? Don't worry, we've pulled out a few examples here but these are just for inspiration. You'll almost certainly, probably, maybe be ok.
And if not, we'll be talking about you for years to come. 
Still got questions? Perhaps there's an answer on the Visa Machine Help section (or even a handy "Help" button in the bottom right corner):