Back
Rickshaw Run. Origins.
Matt Dickens who spent a good part of his semi-adult life wrangling the India Rickshaw Run recalls his time on the first ever Run back in 2007…
"A crunch of metal on tarmac rang out. We looked back to see the rickshaw laying on its side like a lazy drunk. Seemingly in Baywatchesque slow motion, people began running towards it. Then, like a shit version of a flowerpot man, Adventurists founder and chief idiot Mr Tom's pith-helmeted head popped up, a huge grin spread across his stupid head. This was quickly followed by Ms Jenny's fond and caring words, shrieked out at 100 decibels "Tom, you're such a fucking idiot". Panic over. Thankfully the rickshaw was fine. Despite being made of paper, they're hardy little buggers after all.
The first-ever Rickshaw Run was quite a thing. We had no idea if it was even possible. Indeed, any local we explained the concept too was extraordinarily sure that it most definitely was not possible. Once they'd stopped laughing that is. We hoped to prove them wrong.
I very first heard of The Adventurists whilst in rather a remote corner of Brazil. Some chap we were speaking to had just gloriously failed to finish the Mongol Rally and had mentioned a new three-wheeled adventure dawning in India. Embracing all the computer viruses, we logged on in some dodgy internet cafe in the arse end of nowhere and signed up for the Rickshaw Run there and then. It was too stupid not to. It seemed I got a free penis enlargement pump too, which was odd.
A couple of months later an we headed off to India, with literally no idea what we were about to do.
Seeing as it was the inaugural Run, we all had brand new, straight-out-of-the-box vehicles. Sounds good eh? It wasn't. This fact became very-apparently clear when our fuel tank fell off after hitting the very first bump we came across. Thankfully we'd just filled it up too, so managed to make a royal mess in the streets of Fort Cochin. It seems they'd forgotten to fit any bolts in the factory. An impressively shit omen. I couldn't help but wonder what other bits they'd forgotten to add.
There were, and indeed still are, no real rules on the Rickshaw Run, but my partner and I were not going on highways, we weren't going to drive at night and we'd keep our rickshaw in peak condition. The very first day saw us leaving the start line at sunset (we lost many hours to crucial pimping) and heading straight onto a highway with a fuel tank held in place with a bent coathanger. This is precisely what it's all about. There's no point making plans for the Rickshaw Run because Mother India will graciously take them, chow down on them and pebbledash you with them. Way better (and cleaner) to just make things up as you go.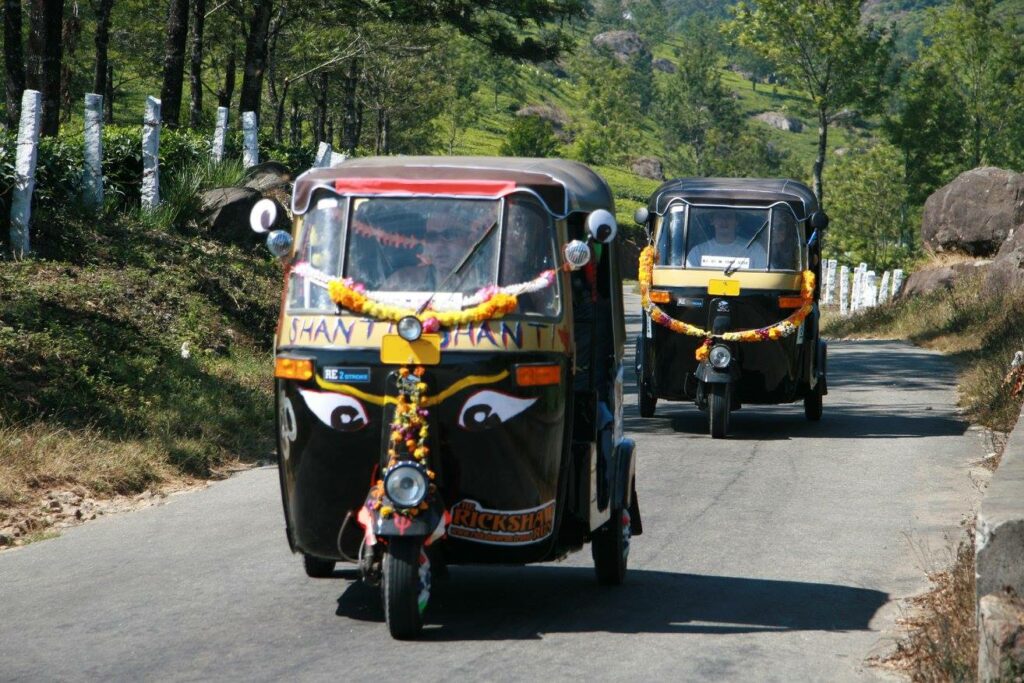 In pitch-darkness, we made our way up, out of Cochin and towards Munnar, deep in tea-country. We arrived around 2 am. You need to remember this was in peak tourist season, so every hotel and guest house we tried was full. Eventually, we decided the best thing to do was probably give up. We thought to sleep in the rickshaws when I saw a light up ahead. Upon investigation, I discovered a small shop making chocolate. I asked if they knew anywhere to sleep and the manager roughly pushed some workers aside and pulled a ladder down from the ceiling. Above, was a wonderfully grotty hole with some mouldy mattresses inside. The price – 50 Rupees per person – around 80 English pence back then.
I went back to the others and sold the manky room well "It's cosy, cheap and it smells like chocolate". Sadly, it didn't smell of chocolate for too long as Tom thought that bringing his leaky jerry can with him was a marvellous idea. Needless to say, like most of his ideas, it wasn't. High on fumes and life, we laughed ourselves to sleep that night.
Next day, after crossing a rather high pass, we were hurtling down a fucking magical series of hairpin bends. The sun was shining, we were taking in bloody awesome views, we may have even been singing. It was then that we realised we had no brakes. After some impressively clunky gear work (which made it sound like we lost our gearbox with each change) and a bit of tactical swerving, we managed to stop. Thankfully, our dear friend Nick bodged a temporary fix by taping a piece of folded cardboard between the pedal and something else equally technical. This temporary fix lasted us another 2500kms and is still there now for all I know.
The days passed in a sepia-tinged blur of long days, deep potholes, lots of laughter and a fair few heavy nights. It was fucking great. You need to remember this was before the curse of smartphones. Before the ruinous tide of google maps had turned us all into brainmushed fuckmuppets. Before even a decent GPS to be fair. We had just a paper map – on which the whole of India was about the size of a smallish piece of bad art in a charity shop. So, we got blissfully lost. An awful lot. Relying too often on our communication skills with the locals – which turned out to be a terrible idea if we actually wanted to move in the right direction.
My highest lowlight was when we all got sick from eating some dodgy grey rice. Should have known better really. It looked like mashed up woodlice, but we were bloody starving. A couple of hours later and we were all in a bit of a mess. I'd tried taking a charcoal pill which was about as much use as the Dalai Lama's UFC subscription. I felt indescribably terrible. So much so that I was beginning to hallucinate. I thought I should probably pull over. I did just that, fell out of the rickshaw, stumbled down a hill and puked violent black vomit all over myself. Looking up, I realised I was right next to a vast hoard of local women doing their laundry. God only knows what possessed white demon they thought I was. Unable to drive further, I spent the rest of that day bouncing around in the back of a jeep. To be honest, that was even worse than being in the rickshaw. Awful, awful day. Can't all be good though, eh?
New Year's Eve, however, was not shit. We were on the beach, had finished driving pretty early, checked into a fancy-ish place (fancy for us anyway, it even had lukewarm water) and hit the gin running. By the time midnight came, it was just us, and a million and four Indian men (and only men) gyrating haphazardly on the dancefloor. I don't remember how the night ended. Probably a telling sign, but needless to say some strong friendships and hazy memories were forged that night.
And then, before we knew it, it was nearly over. We were on the home stretch to Darjeeling. An annoying front-wheel puncture 25kms from the finish line set us back a bit but then we were there. At the finish line. Locals waving frantically all the way. The road was ablaze with noise, colour and celebrations. Feeling a bit lost, we morosely wondered what would we do now. So, we did the only thing we could. We paraded around town in the vehicles, got thrashed at football by some local children, and then cried like said children when our rickshaws got taken away. Then, we went to the pub.
Without sounding like an utter wankshaft, that trip was a life-changer for me. Not only because I ended up organising the bloody event for seven years afterwards, but the people I ended up meeting and convoying with became true, lifelong friends.
Got no mates (I had mates already)? Got no direction in life (I knew what I was doing really)? Then do the Rickshaw Run. You won't regret it. Just like I very often don't."